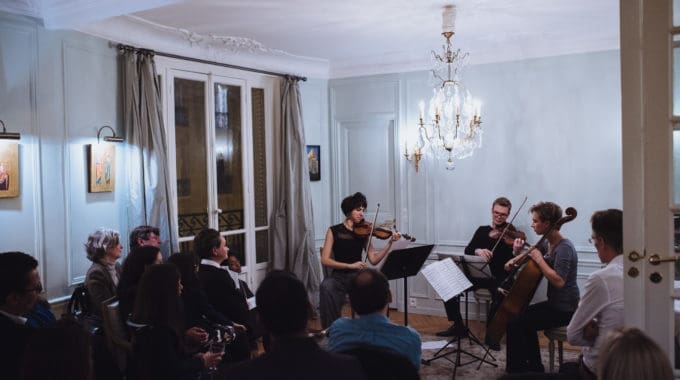 Our faculty member Kyle is the founding Director of the Paris Chamber Music Circle. He organizes one of a kind performances in patrons' homes all around Paris. You'll learn a little music history and hear great chamber works all while sipping a glass of wine.
We believe that anyone can understand and enjoy chamber music, and the Paris Chamber Music Circle offers you just that: a deeper understanding and a greater appreciation of this great art. Our presentations are informative, accessible and fun. Our performances inspire excitement and love of music. And our receptions are a great way to get to know us and other music lovers. Most of all, our events are designed to form a personal connection between the musicians, the music and you.
What is chamber music?
Originally a genre to be enjoyed in the home (as opposed to the theater or church), chamber music is quite possibly the most intimate form of the performing arts. Because of the limited size of the "home" –drawing room, reception hall or palace chamber–chamber music usually permits no more than one person per part and no conductor. As a result, each musician becomes an equally important component and each is intensely involved in the interpretation and performance. This makes for some of the most riveting opportunities to hear music. Many of the great composers throughout history considered their chamber music compositions to be their most private and intimate musical expressions.