We offer ISP students private music lessons at ISP after school at any campus.
At ISP Ranelagh
We offer private music lessons at ISP of 30-minutes or 45-minutes for beginners, and 1-hour for students entering at least their 3rd year of study. Also, students can pair their private instrument lessons with ABRSM music theory lessons online.
At ISP Beethoven and Cortambert
We offer private music lessons of 45-minutes or 1-hour. Also, students can pair their private instrument lessons with ABRSM music theory lessons online.
Performing Opportunities
We believe music is meant to be shared therefore each student enrolled in private lessons is offered two performing opportunities per year in a Parisian concert hall. One concert takes place halfway through the school year and the second at the end of the school year so that we can hear our progression.
Optional Exam Preparation
Finally, this program also prepares students for the non-mandatory Associated Board of the Royal School of Music Exams (ABRSM). The Conservatory encourages all students to prepare for these exams as they give a tangible goal to achieve and motivate students throughout the year. ABRSM is the most internationally recognized music examination organization. To find out more information about these exams please see the post ABRSM Exams.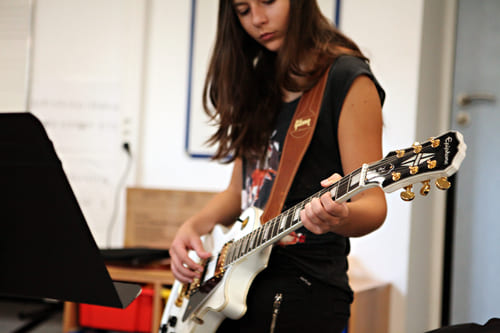 Ages: Gr. K – 12
Levels: beginner-advanced
30 lessons/year
2 concerts/year
Instruments offered:

piano, violin, viola, cello, double bass, guitar, flute, oboe, clarinet, saxophone, bassoon, trumpet, trombone, drums, djembe and voice

Classes start the 3rd week of September. The day and time of private lessons will be decided directly by you and your teacher and take place directly after school.
NEW THIS YEAR – Follow-up Lessons Online
Follow-Up Lessons Online Weekly – 15 & 20-minute Options
This option pairs with private lessons at ISP. Follow-up lessons are unique because we tailor them to your needs. You may choose to have one or more weekly follow-up lessons. Here is how it works: If you sign-up for lessons after school at ISP, you can add one or more 15 or 20-minute follow-up online lessons online each week.
Are music lessons online worth it?
In short, YES! The 2019/2020 school year taught us so much about organizing for the unpredictable. In Paris alone, we had interruptions from strikes, protests, and of course, the pandemic. During the entire confinement, we continued music lessons online trying different teaching methods, lesson lengths, and even times of the day to find the right balance to drive our students' progress. What they accomplished was truly incredible. Everyone soared with the format of a few shorter lessons online each week.
30-Minutes Weekly @ Ranelagh
Follow-up Lessons 15-minutes Weekly
Follow-up Lessons 20-minutes Weekly